"The most effective way we've found to rally a team around a design direction is through collaboration." - Lean UX Designing Great Products with Agile Teams, by Jeff Gotheld & Josh Seiden
If you still remember Chapter 2 of my last article about Lean UX ("How to determine if your product fits the user needs"), it's time to talk about what comes next in Chapter 3: "Collaborative Design." If you don't remember anything, don't panic; you can always read the article right here!
But because I know you're busy, here's a reminder of the three ways to determine if your product fits your user needs:
Staging Assumptions

Converting Assumptions into Hypotheses

Defining User Outcomes
So, ready to master collaborative design? Here is what you can expect to learn in this post, the third in an eight-part series:
Understanding the meaning of collaborative design

Using Design systems to combine style guides, asset libraries, brand guidelines, etc.

Overcoming the challenges of having an international team

Being comfortable when collaborating with all teams
Collaboration is probably the most challenging part of the design process. Not everyone has the same culture when it comes to sharing and interacting with others. But once we taste the benefits of collaboration, it is nearly impossible to backtrack.
I. UNDERSTANDING THE MEANING OF COLLABORATIVE DESIGN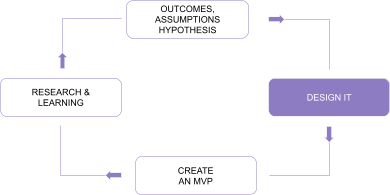 (Source: Lean UX Designing Great Products with Agile Teams, by Jeff Gotheld & Josh Seiden)
"The user experience encompasses all aspects of the end user's interactions with the company, its services, and its products" (NN/g Nielsen Norman Group). The outcome doesn't come from one person only, such as the UX/UI designer, but from the close collaboration and productive interaction between stakeholders.
As I explained in Part 1 of this series, there should be "no rock stars, gurus, or ninjas." Instead, there should be a collaboration between designers, product managers, marketers, and developers/engineers. In other words, a "cross-functional collaboration."
So once the user outcomes have been defined, it is time to start designing. Whatever needs to be designed, start by regularly gathering all the team members involved in the project to share ideas through sketches and quick wireframes. This can happen through formal (Google invites) or informal (spur of the moment) sessions.
The most important part is to keep an open mind. All ideas should be welcomed and be taken into consideration. Most of the time, it is the designer's responsibility to orchestrate the sessions after discussing the necessity of it with the PO (Product Owner) or the PM (Project Manager), depending on how the team is organized.
"In a typical collaborative design session, teams sketch together, critique the work as it emerges, and ultimately converge on a solution they feel has the greatest chance to success."
At this stage, it is better to get "low-fidelity" wireframes as it gives the ability to make quick and necessary changes without spending too much time. These can be individual sketches from all team members (Design Studio method 1) or the designer's whiteboard sketch based on the team members comments/ideas.
The "Design Studio (sometimes called Design Charrette) is a way to bring a cross-functional team together to visualize potential solutions to a design problem. It breaks down organizational silos and creates a forum for your fellow teammates' points of view."
Remember, sharing is caring and caring is about listening to what team members have to say, whether you think it's relevant or not. The main idea here is to gather everybody's ideas and narrow them down to reach a consensus.
II. USING A DESIGN SYSTEM TO COMBINE STYLE GUIDES, BRAND GUIDELINES, ASSET LIBRARIES… YOU NAME IT!
Design documentation can be very heavy to manage and assemble. Over the past two decades, the print world transitioned to a digital one, with print-outs becoming PDFs, web pages, and wikis.
Apple's Human Interface Guidelines (HIG) was the first to translate a style guide into a highly-detailed online document accessible that gathered all the components in Apple's operating system. Since then, many companies such as Mailchimp, Ubuntu, Salesforce, and Dropbox have created their own Design system. Such a system serves both designers (with colors, fonts, spacing, etc.) and developers (with asset libraries, JS, CSS, templates, etc.) by allowing them to use and reuse components without having to reinvent the wheel each time a change is needed.
Although the components for Design systems may vary depending on the essence of the product itself, the beauty of the systems is that they can evolve continually based on the user needs. Above all, they're easy to access and use.
So the end results of having a Design system? "Consistency, quality and lower costs." Even if a system does require a team to build, the initial effort and costs are worth it in the end!
III. OVERCOMING THE CHALLENGES OF HAVING AN INTERNATIONAL TEAM
Working with a team spread all over the world, also called a geographically-distributed team, can be quite challenging, especially when it comes to time zones. (Even at RevSquare/Pentalog, we experience this every single day--our employees are based in North America, western and eastern Europe, and Asia.) So, yes, working together can be quite a challenge sometimes!
Set up a meeting
Fortunately, there are great free web conference tools that help overcome the distance when it comes to organizing meetings and sharing screens: Skype, Google+ Hangouts, Appear.in, Join.me, or even Zoom (free for 40 min). Paying services such as Slack, Skype Pro, Uberconference, or Zoom (for longer access) are also great options for having daily conversations related to specific projects. (I have to admit, technology makes our lives much easier on this matter.)
If a meeting needs to be set up with a virtual team, it's best to ensure everyone's availability before sending Google invites that will have meeting details such as: the topic, time, and communication channel (Skype, Zoom, Join.me, etc.).
Screen share information
During the meeting, someone within the team (like the designer or the PO/PM) can screen share documents, like a Google Spreadsheet. The team members can view the document and also access and interact with it; for example, if there is one row per theme and one column per member, each member can input ideas.
And, sketches or wireframes need to be drawn on a whiteboard in real time, a dual monitor can be set up in a conference room so that everyone can see the progress live and share ideas at the same time.
IV. BEING COMFORTABLE COLLABORATING WITH ALL TEAMS
Still, despite all the available tools, not everybody knows how to interact with people from different disciplines. A good practice with the Agile methodology is to create two very useful artifacts:
1. A Team Working Agreement
This is a set of rules agreed on and put together by the team; it describes how the members should interact in a positive and constructive way. A good TWA should take into consideration the following:
- Process Overview (Which process will be used?)
- Ceremonies (Is there any daily stand-up calls? Is there a demo per sprint?)
- Communication/Tools (Which tool will be used to communicate: Basecamp, Redmine? Or to share: Google Doc? What design assets should be provided to the frontend team: Photoshop files, or a collaboration tool like Zeplin?)
- Requirements and Design (What needs to be provided to the designer: user stories, end points, etc.? What needs to be provided to the Dev team when the design is ready?)
- Development (What are the specs for the front end development and for integration?)
- Work-in-progress limits (What are the limits regarding a certain task? How can you clear any bottleneck through the process?)
- Deployment (What is the cadence of sprints and release? What is the acceptance criteria for user stories?)
(Source: Lean UX Designing Great Products with Agile Teams, by Jeff Gotheld & Josh Seiden)
2. A Retrospective meeting at the end of each sprint
After each sprint ends, a Retrospective meeting helps the team take stock of both what went well and what went wrong; the feedback helps with improvements before the next sprint.
Based on my experience at RevSquare/Pentalog, putting together a Steering Committee Report once a month is also a good addition to the meeting. The report summarizes what progress has been made in specific working conditions and what remains to be done and improved.
Remember, working together means close collaboration and productive interaction between stakeholders from different disciplines. This involves living in the moment and improving the work on a daily basis to come up with the best product and solutions the user can expect.
Think about all this until the next chapter, "Create an MVP"—and continue keeping up the good work!
Read More in This Series Part 1: Lean Process for UX Design ​​​​​​| Part 2: Product Fit